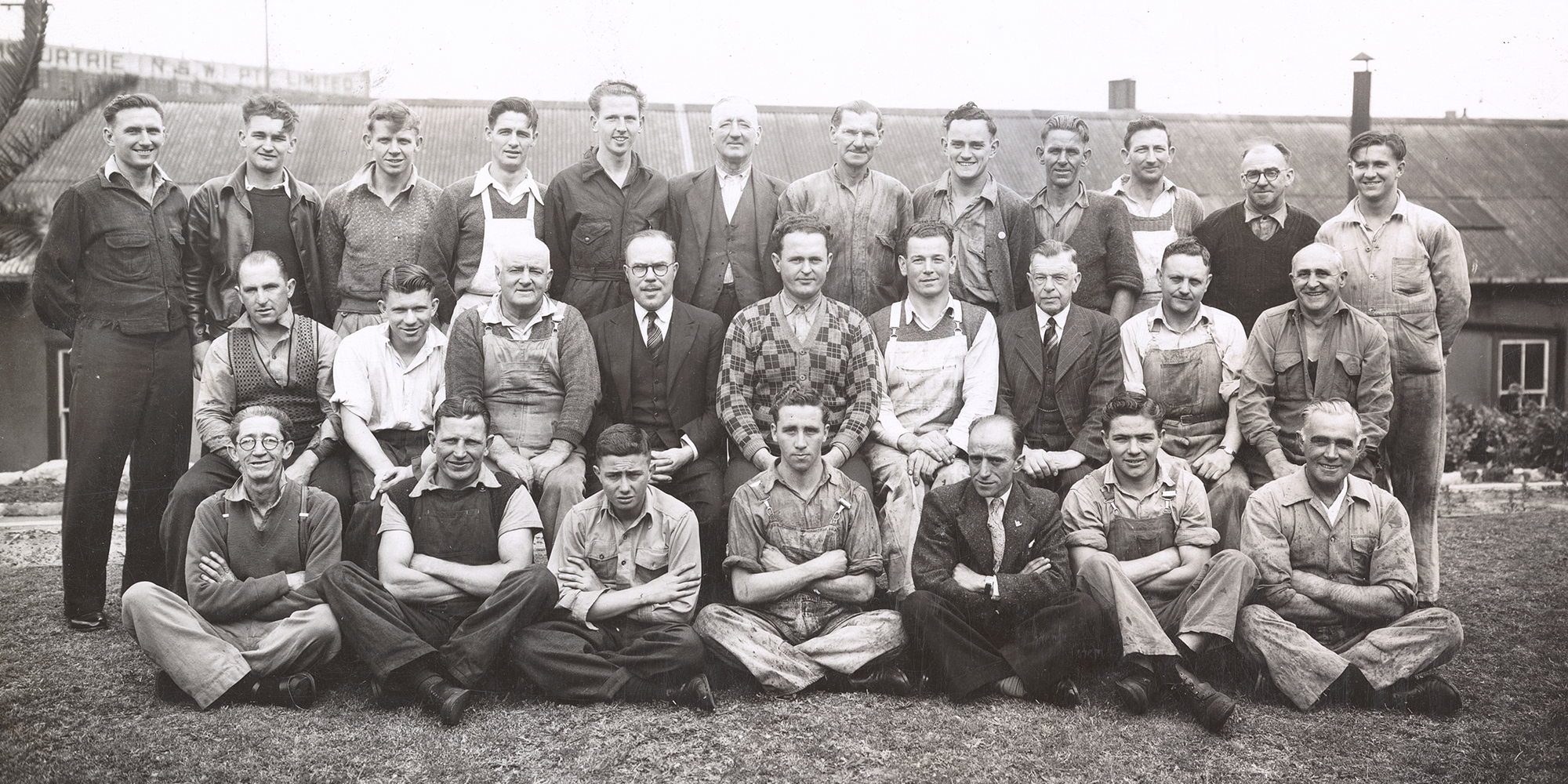 People of South Eveleigh
Discover stories and legacies of the many groups and individuals connected with South Eveleigh.
Apprentices
Traditionally, there were four main pathways to gain qualifications to work in NSW Railways: a graduate degree; a technical college diploma; as clerical staff; and as a trade-level apprentice. An apprenticeship with NSW Railways generally took five years and was the starting point for many workers, with young men often starting their apprenticeships at Eveleigh before they finished school.
Women at Work
While dominant social convention of the late 19th and early 20th centuries discouraged women in the workplace, a handful of women had always defied these expectations, as women were employed at the Locomotive Workshops continuously throughout Eveleigh's entire 100+ years of operation.
Strikers
The Great Strike of 1917 cemented a social and political division between "Strikers" (or "Lily Whites") and "Loyalists", an invisible divide that would remain evident at Eveleigh for years to come, the effects even felt by the next generation of workers whose fathers or grandfathers had been involved.
Loyalists
"Loyalists", "Strike-breakers", "Scabs", "Blacklegs"—all of these names were used to describe railway workers and volunteers who remained loyal to NSW Railways and continued to work through the Great Strike of 1917—the choice of name depending on the allegiance of the speaker.
Workers Wall
This wall commemorates the role that tens of thousands of men, women and youths employed at Eveleigh between 1887 and 1989 played in shaping industrial, political and cultural life in Australia. It pays tribute to those who worked in demanding conditions through times of great adversity, technological, social and political change, to keep this industrial giant running for over a century.
Prominent People of Eveleigh
In addition to producing hundreds of trains and turning out thousands of skilled workers, the New South Wales Railways was a training ground for leaders, politicians, and statesmen. Several of Australia's 20th century political visionaries had their start in this industry, and their first exposure to the industrial conditions and resulting activism that would inspire their future battles and define their political agendas.
Mary Lions
Industrial nursing pioneer and activist Mary "Mollie" Lions was the longest serving industrial nurse at Eveleigh, working at the Workshops for over twenty years from 1947 until her retirement from nursing in 1968. A staunch advocate throughout her career of graduate training, improved conditions and pay for nurses, Mary Lions was instrumental in improving the education and professional standing of industrial nurses in NSW. Lions was instrumental in the formation of the Industrial Nurses Branch of the NSW Nurses' Association in 1946, a founding member of the NSW Nurses' Committee in 1950, and was largely responsible for the introduction of the Industrial Nursing Certificate at the NSW College of Nursing in the 1950s.
Ben Chifley
Joseph 'Ben' Chifley, former locomotive driver who went on to become Australia's 16th Prime Minister (1945-1949), was an example of one of several eminent late 20th century politicians who spent their formative years entangled in the political and industrial arena of NSW Railways.
Joseph Cahill
John Joseph "Joe" Cahill, Eveleigh railway fitter to NSW Premier, was driven by a commitment to improve conditions for the ordinary Australian inspired by his involvement in unionism and the labour movement at Eveleigh in the early 1900s.
John Whitton
Upon his arrival to Sydney and appointment as Engineer-in-Chief of NSW Railways in 1856, English railway engineer John Whitton was effectively handed the responsibility of taking a NSW rail network in its infancy and expanding it across NSW. It was Whitton who first conceived of the idea of the Eveleigh Railway Workshops in the 1870s as the centre for the construction and development of the NSW railway system.