Joseph Benedict (Ben) Chifley (1885-1951)
"I try to think of the Labour movement, not as putting an extra sixpence into somebody's pocket, or making somebody Prime Minister or Premier, but as a movement bringing something better to the people, better standards of living, greater happiness to the mass of the people. We have a great objective – the light on the hill – which we aim to reach by working for the betterment of mankind not only here but anywhere we may give a helping hand" Ben Chifley, conference speech at Sydney Trades Hall, 1949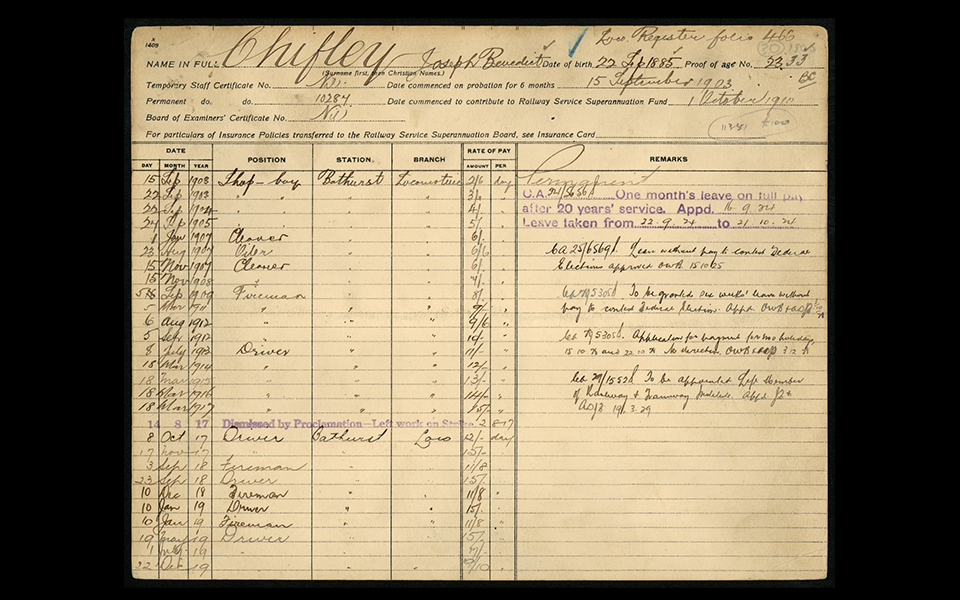 Joseph 'Ben' Chifley, former locomotive driver who went on to become Australia's 16th Prime Minister (1945-1949), was an example of one of several eminent late 20th century politicians who spent their formative years entangled in the political and industrial arena of NSW Railways.

Born and raised on a farm in Bathurst NSW to a working-class family, at age 17 Chifley entered the NSW Government Railways as a Shop Boy. He was soon promoted to cleaner, and eventually to fireman (responsible for tending a locomotive's firebox creating steam to drive the train), as he trained as a locomotive driver through the Railways and Bathurst branch technical school. In 1914, Chifley became a First-Class Engine Driver, the youngest driver in NSW at the time, aged only 27.

During his career within NSW Railways, Chifley became a prominent and active member of the trade union movement. He numbered among the strikers during the Great Strike of 1917, and represented the Locomotive Engine Drivers', Firemen's & Cleaner's Association during local negotiations for a return to work. Chifley was at first fired for his part in the strike, later reinstated upon appeal but with a demotion to fireman.

Chifley's strong unionist activity continued throughout his career in the Railways, including co-founding the Australian Federated Union of Locomotive Enginemen in 1920, before finally making the decision to enter Australian politics.

Chifley continued his fight for unionist's rights throughout his political career, first entering parliament in 1928 as the Labor member for Bathurst, then appointed Minister for Defence in 1931, Treasurer in 1941, and finally elected Prime Minister of Australia in 1945. As the Prime Minister immediately following WW2, Chifley's government is best known and respected for laying a strong economic and social foundation for Australia's post-war reconstruction, particularly due to Chifley's introduction of social welfare reforms.

Throughout his political career, Ben Chifley maintained a reputation as a humble man who never forgot his working-class beginnings as a train driver, lead by his belief in democratic socialism that was fostered and encouraged during his time in the NSW Railways.


References

D. B. Waterson, 'Chifley, Joseph Benedict (Ben) (1885–1951)', Australian Dictionary of Biography, National Centre of Biography, Australian National University, https://adb.anu.edu.au/biography/chifley-joseph-benedict-ben-9738/text17199, published first in hardcopy 1993, accessed online 28 April 2021.