Peddinghaus Shearing Machine
The Peddinghaus Shearing Machine is a large, heavy machine that was mainly used in the Spring Shop for shearing plate or rod metal stock for the production of coiled springs. Installed in the 1950s, the Peddinghaus Shearing Machine was a result of a decision by Eveleigh management at the time to upgrade the equipment in the Spring Shop, improving the spring manufacture process during its peak period of production.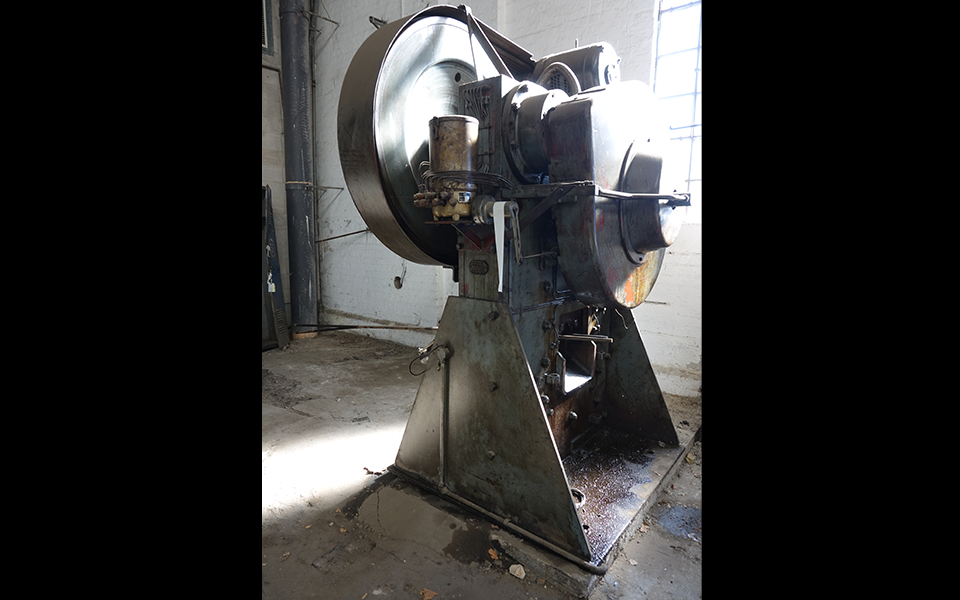 While mostly used for shearing metal to produce coiled springs, the Peddinghaus Shearing Machine was a powerful and diverse machine, also capable of cutting steel plates up to half an inch thick while simultaneously cropping steel profiles. The shears were operated by a belt attached to a large drive wheel that resulted in a slow but powerful shearing action. This slow shearing action meant that rod or bar metal stock to be cut could be fed through the back of the machine onto the bench, allowing continuous shearing as metal moved from the back to front of the machine.
Facts
Year: 1950s
Manufacturer: Designed by Werner Peddinghaus and Emil Funke. Manufactured by Peddinghaus Corporation, Germany.
Dimensions: 126cm (L) x 125cm (W) x 222cm (H)
Material: Bolted and riveted plate metal
SHI No.: 4745123
References

Futurepast Heritage Consulting (2009) ATP Section 170 Heritage & Conservation Register.
Godden Mackay (1996) Eveleigh Workshops Management Plan for Moveable Items and Social History- Volume 3 (Inventory).