Davy Press Team
"A giant Davy high-speed forging press has been added to the machine wonders at Eveleigh Railway Workshops. It is the biggest and most powerful press in Australasia"- Sun, 8 October 1922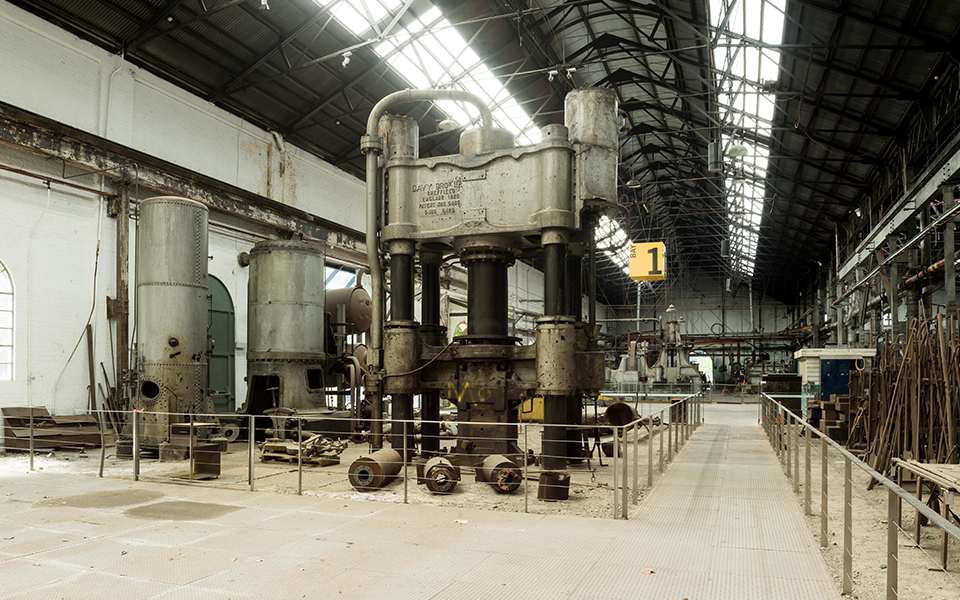 The impressive and rare Davy Press—an imposing machine at 6m tall, 2.5m wide and weighing in at an almighty 200 ton—still looms in its original position as part of the Blacksmiths Shop in the north of Bay 1.
With a squeeze pressure of 1500 ton, the Davy Press was an integral part of the workshops operation for over 60 years, used to make the largest and heaviest locomotive parts and workshop components such as the massive steel locomotive chassis, steam hammer shafts, piston assemblies, and crane wheels.
However, the Davy Press itself was no 'one stop shop' machine. Rather, it was part of a complex system of machines and tools that all worked together to function the press, operated by a team of workers. In simple terms, the Davy Press was powered by pressurised water (stored in the Hydraulic Reservoir) and steam (stored in the Steam Reservoir), delivered first to the Steam Intensifier to increase the pressure of the hydraulic fluid, and then sent at enormous pressure to the Press. A large group of assorted smaller tools including tongs, dies, anvils, fullers and swages completed the Davy Press Team.
In preparation for pressing, large raw metal ingots were heated for hours (sometimes overnight) in the oil-fired Davy furnace, then moved by the Craven Bros. Overhead Crane to the Davy Press. The final stage of press preparation was undertaken by a team of at least five men who used a giant billet holder about 6-8 metres long to carefully manoeuvre and position the red-hot metal pieces into the press, ready for the forger to operate the press using the controls on the side.
References
Futurepast Heritage Consulting (2009) ATP Section 170 Heritage & Conservation Register.
Godden Mackay (1996) Eveleigh Workshops Management Plan for Moveable Items and Social History- Volume 3 (Inventory).