Eveleigh at War
"The power of Eveleigh from an industrial point of view was immensely felt during the Second World War. This was an era that wasn't just producing trains. Australia had a very limited industrial capacity up until that time. What they did of course have was a fairly heavy industry at Eveleigh. Loco [workshops] particularly, were used to produce heavy guns and military equipment as much as anything else. The engineering capacity lent itself to that." Brian Dunnett, former Eveleigh worker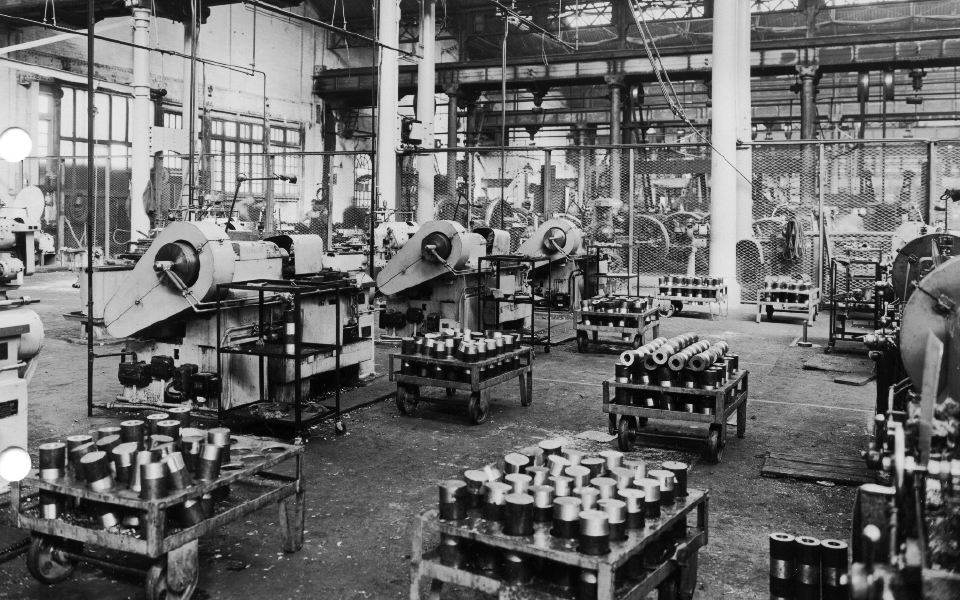 The advanced engineering and manufacturing skills, the machinery and the experience required to maintain, repair, construct and operate locomotives, unsurprisingly also lent themselves to the production of war ordnances such as munitions- a fact that the Australian government took advantage of during both WW1 and WW2.
During WW2, Bays 5 and 6 of the Locomotive Workshop were cleared of railway workshop machinery and operation. A new mezzanine floor was constructed in Bay 5 North and temporarily dedicated to the Department of Defence for the manufacture of 25-pound field gun shells. Over 100 women were employed as process workers in Eveleigh's munition manufacture during WW2. Eveleigh also manufactured castings and parts for 35-ton "Cruiser" tanks, which were then assembled at the Chullora Railway Workshops.

"We had the tank factory. The 35-ton tanks were built at Chullora. And the first two were built at Eveleigh... They had screens around them - a bit of hessian which you could pick up and look under…. I was quite intrigued, as a boy, to see these tanks growing with a great 44-gallon drum sitting up on the back of them. It was the funniest thing to take into a war- a piece of equipment with a 44-gallon drum of petrol sitting up on the back of them. That was purely until they'd worked out how much fuel they were going to use and a simple way of getting it to the engine. Eventually, those prototypes were finished and they went up to Chullora and they were built there." Jack Bruce, former Eveleigh worker

In addition to the munitions manufacture and support during WW2, Eveleigh was still required to undertake all of the usual railway and locomotive repair work- a task made difficult during wartime due to the lack of resources and material availability.

Eveleigh's response to this wartime resource strain was the Workshop's characteristic ability for adaptation, ingenuity, and creativity, by increasing in-house production and repair of workshop tools, machinery and materials that had normally been imported or externally sourced outside wartime.