Pepper Seeds Thai
Pepper Seeds South Eveleigh offers Thai cuisine with a modern twist. We opened our first Pepper Seeds in Balmain in 2012 with a customised menu focusing on boutique Thai dining, carefully choosing dishes to please local tastes. This has inspired our creativity and growth as we strive for perfection on every plate. We also attribute our success in the way our chefs combine unique spice combinations, plus specialised cooking techniques which marry perfectly with fresh Australian produce. Order online here.
View & download the catering order form here.
Take your time and enjoy 2 hours free parking on weekdays - simply validate your parking at the restaurant with a dine-in purchase. On weekends, enjoy 2 hours free parking with no validation required. Free evening parking everyday (enter after 6pm and exit before midnight). For more info about the car park and how to get to South Eveleigh, click here.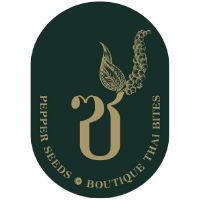 Pepper Seed Thai Trading Hours
Monday
11:00am - 3:00pm | 5:30pm - 10:00pm
Tuesday
11:00am - 3:00pm | 5:30pm - 10:00pm
Wednesday
11:00am - 3:00pm | 5:30pm - 10:00pm
Thursday
11:00am - 3:00pm | 5:30pm - 10:00pm
Friday
11:00am - 3:00pm | 5:30pm - 10:00pm
Saturday
11:00am - 3:00pm | 5:30pm - 10:00pm
Sunday
Closed